Room to Grow
Posted by Stacia Rosatti on Wednesday, November 20, 2019 at 3:20 PM
By Stacia Rosatti / November 20, 2019
Comment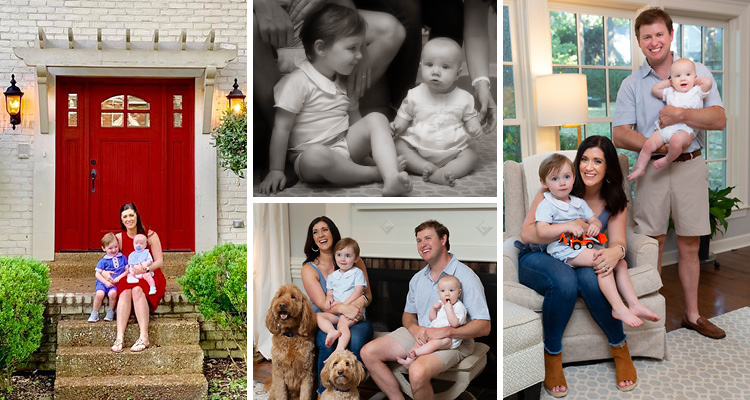 Ainsley and Brad Hightower moved into their Germantown home last summer, but the honeymoon period is far from over. "We were coming home yesterday and as we were driving up the street I said, 'I just love this house!" says Ainsley. "Even though the new is starting to wear off, we just feel very comfy."
Comfortable is a feeling the couple hadn't experienced for a while in their previous house—cramped is a more accurate description of their living conditions once their second son, Hayden, came along in February.
Ainsley, who works in marketing and events for the Palmer Home for Children, says, "We loved the house, it was just little." When she and Brad, a vice president of business banking with First Tennessee, bought the house around the time they got married in 2014, their family consisted of the two of them and Camp, Ainsley's goldendoodle. Before long the Hightowers added another doodle puppy, Rosie. Then their older son, Ford, was born three years ago. "Finally, when it was Brad and me and Camp and Rosie and Ford and Hayden, we thought, 'We've got to get out of here!'" she recalls with a laugh.
"We really hit it off with her. I felt like she knew exactly what I was looking for; I could tell she 'got' my style immediately."
Although the couple started searching for a new place in late 2018, they hadn't had any luck finding a home by the end of the year, so they paused the house search to prepare for Hayden's arrival in February. "He hadn't been home for two or three weeks when we decided we really needed to go ahead and move," Ainsley recalls. "We had a toddler who had a lot of energy and a newborn, and it was a lot in a small house."
Enter realtor Stacia Rosatti. Brad fell in love with one of her listings that he found online. Even though the house had sold by the time he contacted her, he decided she'd be great to work with—"She was selling the kind of houses we wanted," he says—so the Hightowers teamed up with the pro to find their next home.
The match was an easy one, according to Ainsley. "We really hit it off with her. I felt like she knew exactly what I was looking for; I could tell she 'got' my style immediately."
And it didn't hurt that Stacia and her husband Bill have sons around the same ages as the Hightower boys. "She knew what we needed," says Ainsley. "When we went to see houses I would have Hayden with me because he was only a few weeks old. It would be funny because I'd just hand him off to Bill while Stacia showed us around. It was so easy!"
After receiving many emails from Stacia with home listings, the perfect one came while the family was at the beach for a week at the end of Ainsley's maternity leave. "Stacia texted me on that Wednesday that there was a house that just dropped into our price range and we needed to see it ASAP," says Ainsley. "She actually FaceTimed us. She and Bill came to check out the house and FaceTimed us at the beach while she was here. We loved it!"
The listing agent had an open house scheduled for the upcoming Saturday, the day the Hightowers were set to come home. They drove straight from the beach to the house, met Stacia there, and the rest, as they say, is history.
The traditional brick home has five bedrooms, two and a half baths, and plenty of room for this young family to grow. Ainsley describes the butler's pantry off the kitchen as her "favorite part of the house that I didn't know would be." The large third-floor playroom is another big plus. "All the toys are upstairs, not under foot," says Brad.
The couple also enjoys spending time in the downstairs sunroom, an add-on the previous owners had built a few years ago. "They lived in the house 29 years and raised three kids here," explains Brad. "They loved the house and we love the house."
And, like the last family that called the house home, the Hightowers are in for the long haul. Brad notes proximity to his parents, who also live in Germantown, and to the newly opened Forest Hill Elementary School as top reasons to stay. He and Ainsley have already started coming up with ideas for projects. "We have some plans for the backyard and the kitchen, but when we talk about that, we're thinking long-term," he adds.
Just because they aren't likely to be in the market for another house for quite some time, that doesn't mean the HIghtowers and the Rosattis are through. As Ainsley says, "We mesh really well, which we found out more and more through the [homebuying] process. We could hang out with Stacia and Bill every day!"