First Time's the Charm
Posted by Stacia Rosatti on Thursday, April 15, 2021 at 12:44 PM
By Stacia Rosatti / April 15, 2021
Comment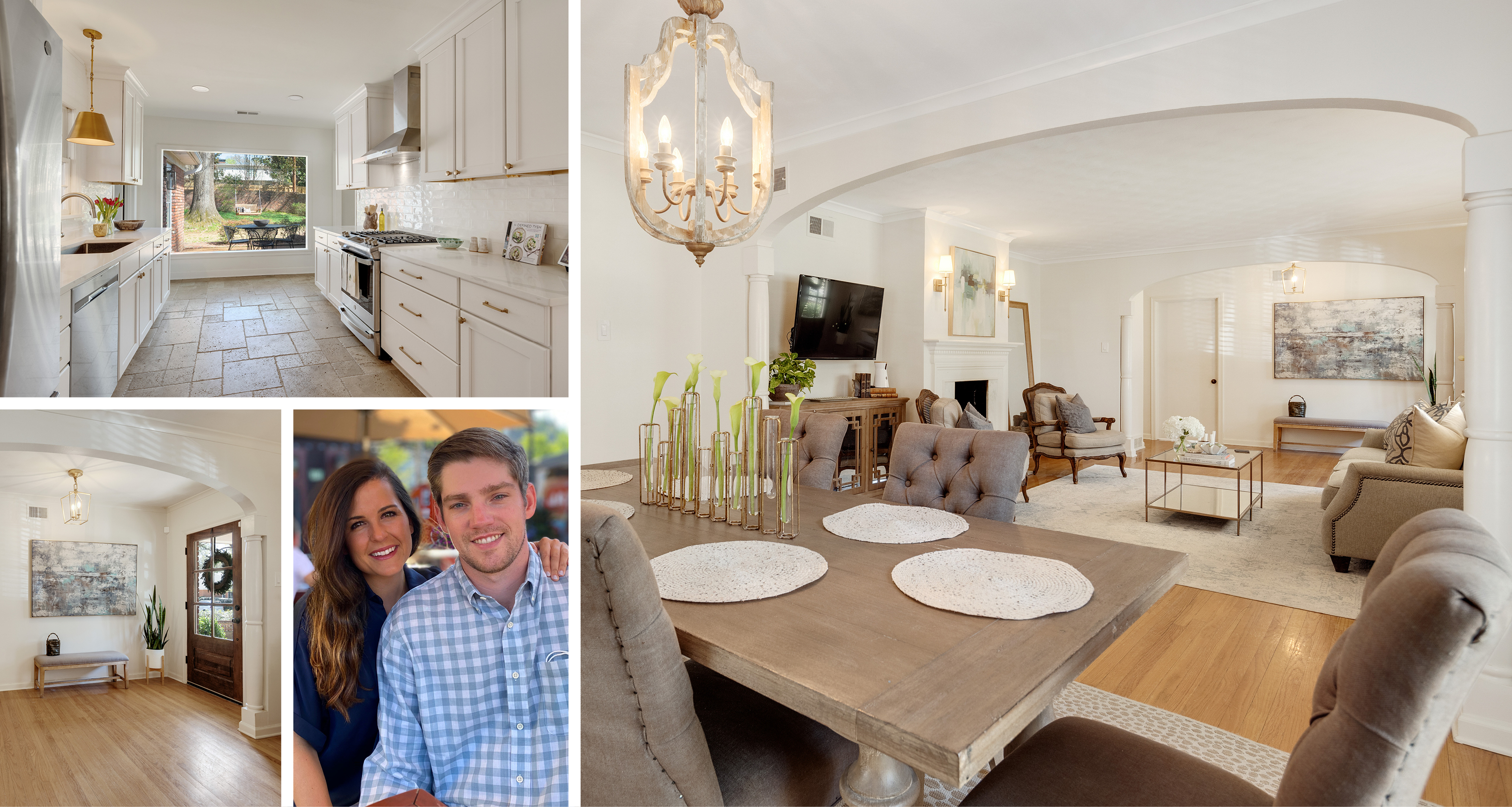 They'd been a couple since high school, graduated from college, started their careers, gotten engaged and were planning their upcoming wedding. When it was time for Morgan Maness and Blake Edwards to take the next logical step they knew just who to turn to for help. The young pair called on Stacia Rosatti to help them find their first house, and they couldn't be happier with way it all worked out.
No one was better equipped to help them. As familiar as Stacia is with the Memphis real estate market, she knows Morgan even better—their families were neighbors for years and Morgan grew up with the Rosatti boys. "We've known her forever. She and my mom even went to high school together!" Morgan says.
As first-time home buyers Morgan says she and Blake "knew nothing" about the ins and outs of the process, but Stacia made the experience a breeze during a busy time in their lives. "We were planning our wedding and all that goes with it, so having a house hunt on top was a lot. When we needed her she was always there. She was so helpful, though, right on top of everything we needed to look at in a house."
With the home the eventually purchased, the things they needed to look past were just as important. The couple knew they wanted to settle in the Pidgeon Estates area, where the homes are older, and that a fixer upper would more than likely be in their budget.
"It's been fun just putting our own taste into the house and getting what we want from it."
Early in their search Stacia showed them a three-bedroom brick home that had great bones but was in need of a major facelift. The walls were painted dark colors and the rooms were filled with "massive" furniture, remembers Morgan, not at all in line with her favored light and clean style. She admits she had trouble envisioning the house's potential at first, but she and Blake both loved the backyard and the neighborhood. With Stacia's expert guidance, they purchased the house and a month before their 2018 wedding they started to make it their own.
The first project was to bring the master bathroom into the 21st century. The 1950s-era decor was pink, and not just a little pink. The tile was pink, the bathtub was pink, even the toilet was pink. And the walls were brown. "We updated it all white and gray," says Morgan. "It's a small bathroom, but just getting rid of the pink and making it all neutral colors has made it feel bigger."
Next on the docket was painting. The formerly colorful walls throughout the house are now covered in a fresh shade of white that brings continuity and uniformity. Morgan says the all-white palette she loves was a bit of a tough sell to Blake initially. "He was like, 'Are you sure you don't want to go a little grayer.'" Once she convinced him to go with her vision and the work was done, he came around. "He loves it now. He wouldn't change it," she says.
Morgan also set about replacing almost all the light fixtures with up-to-date styles. However, she kept one original at the urging of her mom. In the den, a vintage brass sputnik-style chandelier is a fun nod to the home's mid-century origins.
The Edwardses recently completed renovating the kitchen and Morgan says the new look has helped them up their cooking game. The project included widening the cased opening between the kitchen and the adjacent dining room, new cabinets, quartz countertops, appliances, backsplash and flooring, and the result is stunning.
Morgan has been adding furniture and accessories gradually since they moved in. "That's a piece of advice I'd give anyone with their first home. Start collecting things over time. When we moved in we had nothing. We wanted it to look good, but I wasn't going to buy things just to fill space. I want to have things I love, so it's taken a while." She laughs, adding that William's degree and career in finance make him good at setting a budget, and she has become good at sticking with a budget—for the most part.
The house looks great, thanks to Morgan's decorating talent, a little help from her mom and girlfriends, and hours of watching HGTV and scouring Pinterest for inspiration, but the young homeowner still describes it as a work in progress. Although it's been a lot of work, she says she's glad that they went for their fixer-upper instead of opting for a home that had already been renovated. "It's been fun just putting our own taste into the house and getting what we want from it."