A Change of Plans
Posted by Stacia Rosatti on Monday, November 16, 2020 at 4:26 PM
By Stacia Rosatti / November 16, 2020
Comment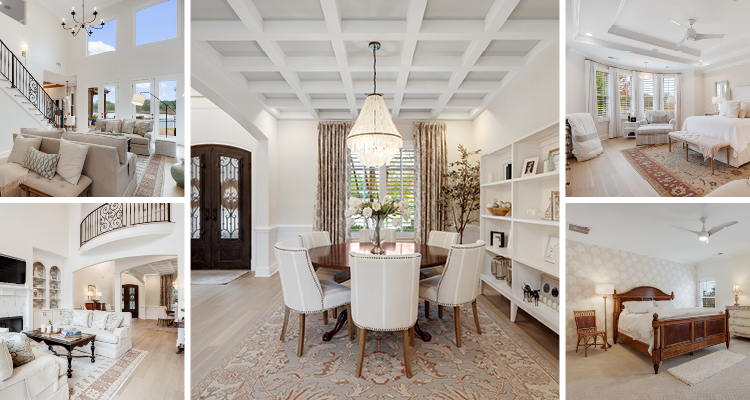 Eric and Jill Micai thought they had it all planned out. They had picked out a lot, selected a contractor and were about to sign paperwork to build a new home.
Then Jill came across a property for sale, listed by Stacia Rosatti. She convinced Eric to "just go have a look" at the house and that changed everything. "It was that first rule of real estate: location, location, location," Jill recalls. Once the couple toured the home they fell in love with its lakefront setting and picturesque view.
They quickly put the brakes on their plans to build and before long they had placed a contract on what would be their new home. That kind of about face happens rarely, but the story doesn't end there.
After purchasing the home the Micais undertook a massive renovation project, completely updating the entire house, literally from floor to ceiling. "It was a beautiful house; the construction is fantastic. It just needed to be updated," says Eric. "We started thinking small, and then we realized that if we were going to do it we should go ahead and do a full remodel."
The idea of a project of that scale might have put off some potential buyers, but the Micais were eager to take it on thanks to a big assist from Stacia. Going above and beyond the basic tasks of a realtor, she helped Eric and Jill envision what the house could become, then connected them with trusted professionals who could bring that vision to life.
"When we were shopping the house Stacia helped us get a mental handle on what would be involved, what order it should go in and what it could look like. It happened quickly! We went for it. It was very reassuring that she was able to help us know what investments help the most with resale...things that really experienced realtors know."
"Stacia is so experienced; she's a wonderful realtor. She came back repeatedly and walked through with us, coming up with ideas about changes we could make. The whole thing for us is that (lake) view. We wanted an open feeling," says Jill.
The Micais recognized they weren't working with an ordinary realtor from the moment they met Stacia. The couple hadn't had a relationship with an agent—they were on the path to build a new house—but quickly paired with her when she showed them her listing. Jill says they recognized the high level of professionalism and knowledge of the market both Stacia and her husband Bill have. "It was integrity. We knew right away they were going to be candid with us and not oversell a property. They were candid about what the investment would be and what would pay off. And it was a lot of fun working with them, too!"
So, what began as an idea to lighten up the house by painting and replacing flooring morphed into a five-month renovation journey with end results worthy of an HGTV episode.
"We started semi-small with our vision. We knew the house needed to be painted. Then it snowballed. We were painting the walls, then we needed to paint the ceilings, then the trim, then the doors. Every paintable surface in this house was repainted. We prioritized projects that were going to be easier to do on the front end than later on. We knew if we wanted to do the floors and we were going to reconfigure the kitchen, that we had to do both of those at the same time," Eric remembers.
The kitchen now gleams in stainless, white and marble after a complete redo which also included repurposing an adjacent office into a butler's pantry.
Out went a 20-foot stone fireplace in the family room and the back wall of the house. In its place came a wall of windows to showcase the lake view that drew the couple to the property. Also gone is a Juliet-style balcony originally on the wall opposite the fireplace.
"Everything that could be replaced in this house was replaced. Every light, light switch, light bulb, fixture. We gutted the bathrooms; laid new tile. We redid the staircase and laid between 3,500 and 4,000 square feet of new hardwood," says Eric.
Because she knew the floors were of major importance to the buyers, Stacia set up a meeting between them and her recommended floor contractor before the Micais made an offer on the house. That meeting helped give the couple the confidence they needed to proceed with the purchase and renovation.
Also guiding the couple was interior designer Brittany Hanlon of Hayes & Nash Design in Mount Pleasant, South Carolina, who happens to be Jill's cousin. Through an in-person visit and many e-conferences, she helped the Micais make decor choices, including a few risks they might not otherwise have considered. Brittany and Stacia were also invaluable, says Jill, as they served as impartial third parties and trusted "tie-breakers" on a few of the inevitable design decision "conversations" she and Eric had along the way.
Eric served as the general contractor and he attributes the project's success to the fact that he was at the house every day during the construction. From bringing donuts to the crew to sweeping up to operating a jackhammer, he not only kept an eye on the work, he forged relationships with the people who were rebuilding his home. "All of them went the extra mile for us, doing things they may not always have done," Eric says.
One of those "extra-mile" moments came when he asked the flooring contractor what he intended to do with the old hardwood his workers removed from the house. When he found out they were going to get rid of it, Eric asked if they could install it in the two attic spaces. Now the home has the fanciest storage spaces around—hardwood on the floors and on the risers of the attic steps.
Although the project was definitely a labor of love that Jill describes as "a million little decisions—not for the faint of heart," she and Eric say they would encourage others to consider a large-scale home renovation.
"I don't think people should shy away from the idea of a major reno, especially in the Collierville market, where a lot of homes are kind of at that age now where it's time. There was a big building boom back in the 90s here. There are some beautiful homes that are waiting to be freshened up," says Eric. "People hesitate because of the headaches, but a lot of the new homes and subdivisions don't have the character or the lots that some of these homes do. This lot doesn't exist anywhere else."
Jill echoes Eric's enthusiasm, adding one final word of praise for Stacia's encouragement. "I don't know that we would have had the courage to take the leap if we hadn't come across her. We snapped her up and we're really fortunate we did!"